HEALONTM PRO Ophthalmic Viscosurgical Device
HEALONTM PRO Ophthalmic Viscosurgical Device
To order this product, please contact your sales rep.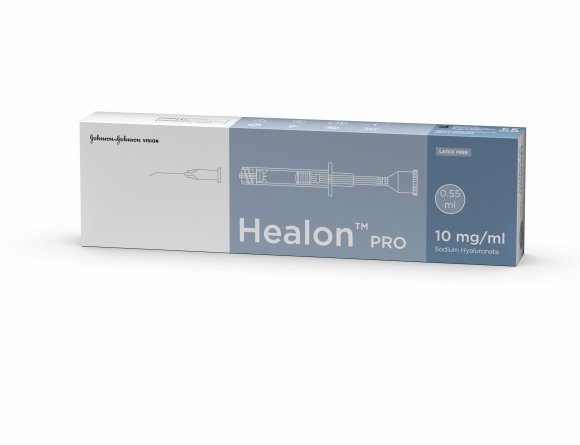 Clarity and reliability that supports your surgical technique.
Ideal for capsulorhexis and IOL insertion, HEALONTM PRO cohesive OVD:
Provides excellent space creation and supports endothelial cell protection1,2,4
Maintains a deep anterior chamber for efficient maneuvering and IOL implantation1
Features easy injection and removal to support a smooth workflow2-4
Is clear and transparent for outstanding visualization during procedures1,2,4
| | |
| --- | --- |
| Classification | Cohesive |
| Fill size | 0.55 and 0.85 ml1 |
| Molecular weight | 3,200,000 Da1 |
| Zero shear viscosity | 50,000 – 562,000 mPas4 |
REFERENCES
1. HEALON™ PRO OVD DfU – CE Central – Doc. #52-0468-00 – Rev. 2020-01-15. REF2020CT4203.
2. Hütz WW, et al. Comparison of viscoelastic substances used in phacoemulsification. J Cataract Refract Surg 1996;22(9):955-959. REF2014CT0082.
3. Miyajima H. In vitro behavior of ophthalmic viscosurgical devices during phacoemulsification. J Cataract Refract Surg 2006;32(6):1026-1031. REF2016CT0499.
4. DOF2016CT0020 – Evaluation of the rheological properties of HEALON™ PRO OVD and HEALON5™ PRO OVD. 2016-06-13
© Johnson & Johnson Surgical Vision, Inc. 2022.
For healthcare professionals only. Please reference the Instructions for Use for a complete list of Indications and Important Safety Information and contact our specialists in case of any question.
PP2022MLT4203